A few weeks ago Rafiq Phillips of MIH in South Africa and Webaddicts allowed me a chance to sneak peak a development version of the desktop social messaging Feedalizer, one which has since been released to the public and very well received. I decided to a quick Q&A with him to see how development was going and what the history of their team was.
Appfrica: What is MIH?
R: MIH focuses on Internet businesses, within the Naspers Group, in growing markets in which it has attained or hopes to attain sustainable market positions. Geographically the group is focused on the larger emerging markets with a specific focus on the BRICSA countries ( Brazil, Russia, India, China, South and sub-Saharan Africa) and the adjacent territories, which the group believes present above-average growth opportunities.
MIH's objective is to continue sustained growth of its business with a focus on key investments and developing its technology whilst providing a quality service and maintaining a local approach.
A: How did Feedalizr come about?
R: It was inspired by the release of the Friendfeed API. We wanted to create a notifier that unobtrusively alerted you of any Friendfeed updates. This evolved to posting content, as well as implementing other services.
A: Do you feel it's often not given the credit it deserves for being the first Adobe Air app targeting Friendfeed's userbase?
R: No, I don't really think that the fact that Feedalizr was the first AIR app for Friendfeed deserves credit. However, the functionality of Feedalizr hopefully makes it credit-worthy.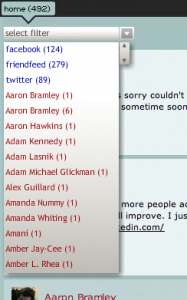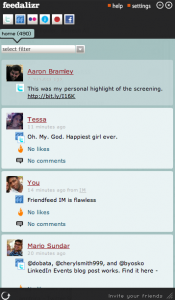 A: What are some of the challenges to building an Air application for so many diverse services (Flickr, Twitter, Jaiku, Friendfeed, Friendfeed Video)?
R: Not all services implement the same authentication mechanism, which means we had to write a custom authentication mechanism for each service.
We also tried to keep the look of different services as consistent and simple as possible, but because each service has its own unique functionality, a lot of time was spent finding the balance between consistency, functionality and simplicity.
A: What's the Air Development scene like in South Africa and how are people thinking of monetizing their applications?
R: I don't think AIR is very big in SA yet. The AIR runtime only recently came out of beta, so we should just give it some time to spread. In my opinion, I think the best way to make money out of an AIR app, is to sell it on Adobe Marketplace. Other obvious ways would be a subscription model, or advertising.
A: What's your advice for young developers in South Africa and throughout the African continent?
R: Work hard.
A: There's a lot of unnecessary development because so many groups don't want to open source their platforms. For instance Microsoft has Silverlight while Adobe has Flash and the things based on it like Flex and Air while IBM has Blue Spruce. What are your thoughts on all of this? It's like all of them are vying for the attention of developers.
R: I see it as competition, so….survival of the fittest. Different technologies influence each other, resulting in more feature robust solutions. At the end of the day though the winner needs to be the consumer, not the technologists.
Read Appfrica's original coverage of Feedalizr here and download it here.