Last week representatives from the U.S. State Department Elana Berkowitz and Bruce Wharton reached out directly to innovators in East Africa to discuss the Apps 4 Africa contest, and the role software developers play in solving civil society issues in their countries. They are funding this contest which is being organized and facilitated by Appfrica Labs (my company in Uganda), iHub (Kenya), and Sodnet (Kenya's Social Development Network). The Apps4Africa website itself was developed by Ugandan web design company, NodeSix.
I found this interesting because it's not everyday you have someone as high ranking as a Deputy Coordinator fielding ad-hoc questions from youth and entrepreneurs in East Africa. The hour long conversation took place at here and you can view the full transcript and video by clicking the link or the image below…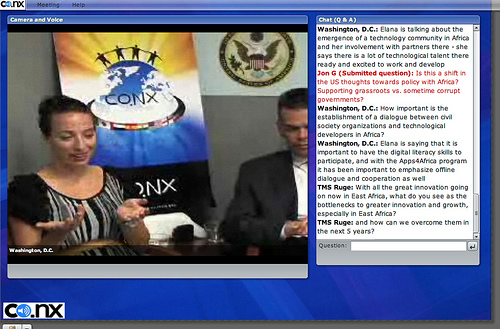 The other thing that I found admirable about this whole thing the way in which the State Department used social media to not only speak to Africans, but to listen and actually have a conversation with anyone who was in the room at the time. Some quick highlights and personal observations from the conversation:
One person in the room going by the name Tolo asked, "If you hold the competition and someone wins with a great new application who will hold a right to future profit?"
Elana and Bruce pointed out that most of the apps entered will be open source, but not all. This means developers of proprietary solutions can enter, keep their code private and would thus retain all the rights to their application. Winning the prize does not require the app to be open source although we encourage it.
Teddy Ruge (TMS Ruge) of ProjectDiaspora.org asked "With all the great innovation going on now in East Africa, what do you see as the bottlenecks to greater innovation and growth, especially in East Africa?"
The response from Bruce, "Secretary Clinton has often mentioned the barriers (tariff and non-tariff trade barriers) that exist between the countries of East Africa. Lowering those barriers is one thing that will help support innovation."
I was also in the room and asked the following question, "Is this a shift in the US thoughts towards policy with Africa?"
Bruce answered, "There is a general recognition that the aid and development programs we've pursued in the last few decades have had mixed results. So we are all looking for ways to improve the model. President Obama has laid out a model of 'let's be partners and not patrons'."
Visit Apps4Africa.com for more or to find out your next opportunity to participate.