Mashing up some data from Ushahidi and a number of reports on the mining of coltan (columbite and tantalite) it's easy to see the correlation between heavily mined areas and the conflict regions of the Democratic Republic of Congo.
As you can see in the graphic above, red indicates reports of incident captured at drc.ushahidi.com while the blue illustrates areas where coltan is mined. Of course there's a lot of other mining going on in these areas as well, but I was interested mainly in coltan mining for the purpose of this infographic. As usual, you can find the highres image at flickr.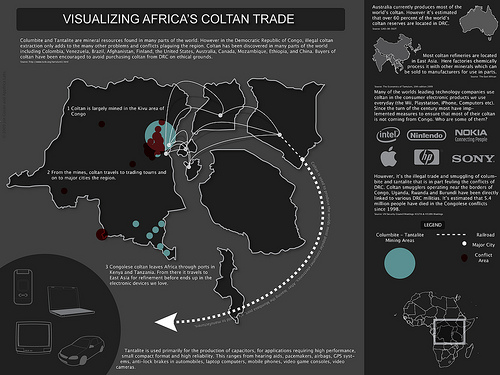 Text from the graphic:
Columbite and Tantalite are mineral resources found in many parts of the world. However in the Democratic Republic of Congo, illegal coltan extraction only adds to the many other problems and conflicts plaguing of the region. Coltan has been discovered in many parts of the world including Colombia, Venezuela, Brazil, Afghanistan, Finland, the United States, Australia, Canada, Mozambique, Ethiopia, and China. Buyers of coltan have be encouraged to avoid purchasing coltan from DRC on ethical grounds.
Tantalite is used primarily for the production of capacitors, for applications requiring high performance, small compact format and high reliability. This ranges from hearing aids, pacemakers, airbags, GPS systems, anti-lock brakes in automobiles, laptop computers, mobile phones, video game consoles and digital cameras.
Australia currently produces most of the world's coltan. However it's estimated that over 60 percent of the world's coltan reserves are located in DRC. Most coltan refineries are located in East Asia. Here factories chemically process it with other minerals which can be sold to manufacturers for use in parts.
Many of the worlds leading technology companies use coltan in the consumer electronic products we use everyday (the Wii, Playstation, iPhone, Computers etc). Since the turn of the century most have implemented measures to ensure that most of their coltan is not coming from Congo. Who are some of them? Apple, Intel, Hewlett-Packard, Sony, Nokia, Nintendo.
However, it's the illegal trade and smuggling of columbite and tantalite that is in part feuling the conflicts of DRC. Coltan smugglers operating near the borders of Congo, Uganda, Rwanda and Burundi have been directly linked to various DRC militias. It's estimated that 5.4 million people have died in the Congolese conflicts since 1998.
Sources:
"How Technology is Fueling the Crisis in Congo"